For the past 20 years, Impact(Ed) International has been utilizing the power of media to transform education and improve lives across the marginalized world. We see media as a modern form of storytelling, which humans have been doing since the beginning of time and which is a critical tool in driving connection, discovery and learning.
In less than 10 years, Africa will be home to a billion people under the age of 24. There is little doubt that this group of young people will largely determine the shape of our world. We believe that social impact media has an essential role to play in helping this generation maximize their potential while advancing public health, environmental and education outcomes in line with the UN Sustainable Development Goals.
But to effectively play this role, there is an imminent need to scale up the creation and distribution of locally relevant and memorable content – grounded in powerful stories – made specifically for this demographic. And to this end, we need a robust, cost-effective and timely evidence base from which to build. With that in mind, we commissioned the Research, Insight and Evaluation team at M&C Saatchi World Services to help us deepen our understanding of the rapidly changing media consumption habits of young people in Ghana, Kenya, Nigeria, and Zimbabwe. The report was released at the first-ever Africa Social Behavior Change Conference in Nairobi, Kenya. Read it here 
Why you should read this report
This study offers a comprehensive, unprecedented analysis of the most recent data on youth's media habits, alongside newly conducted interviews with relevant experts for insights that will help us – and others – harness the opportunity for impact. It gives valuable insight into the preferences, interests and consumption habits of African youth. Importantly, it helps us understand what kind of content they are seeking. With this foundation, we plan to expand co-creation and content design alongside young people, resulting in new solutions and opportunities for them to maximize their potential. Here are a few highlights:
Digital Access is growing, but confined: By 2020, the number of mobile broadband connections in Sub-Saharan Africa will reach 500 million. However, prohibitive mobile data costs confine this access largely to social media applications on phones and limit the audience for data-consuming activities, such as streaming.
There is a striking gender divide in internet access: Young urban men often access the internet at a far greater rate than their female peers in Sub-Saharan Africa. For example, in urban Zimbabwe, just 14% of young women vs. 38% of young men report using the internet.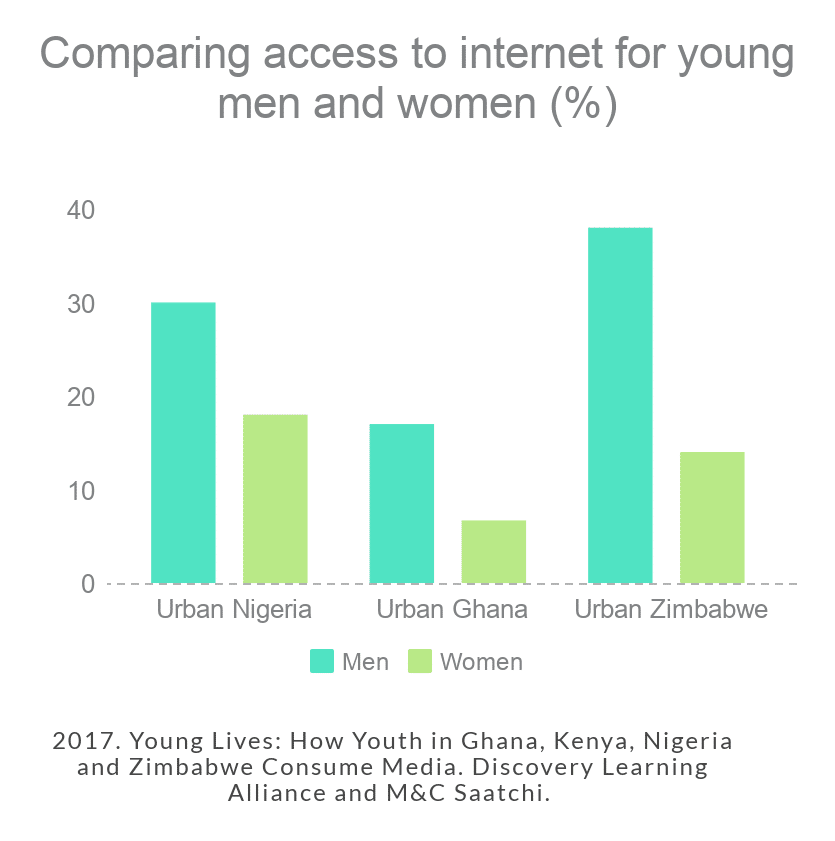 "Glocal" Identities: Young Africans increasingly express themselves by integrating global trends with national, local and age-related themes and fashions. Global brands are responding in-kind with targeted national and regional marketing campaigns that have adopted this hallmark of self-expression. One example is Nike's 'Naija' sports line designed for the Nigerian team playing in the 2018 World Cup, adopting a local term especially associated with the country's youth.
There is no "one" Africa, but opportunities for pan-African content abound: Music and visual arts have been particularly successful in transcending geography on the continent, as illustrated by the resounding success of the African versions of Coke Studio and The Voice, as well as pan-African film festivals.
It is our hope that this report will inspire other data collection efforts to propel the social behavior change community towards inclusion of a more foundational evidence-based guiding principle.