"My Better World embodies the best of what media can and should do – draw audiences on its entertainment merit, telling the stories that matter most, and leaving them empowered to improve their lives and the lives of those around them."
Citizen TV, Kenya
We are thrilled to announce that our series My Better World has been nominated for an International Emmy  in the Kids: Factual & Entertainment category.
My Better World is a series created for and with young people. Its unique format combines animation with real-life documentary shorts. As we follow the adventures of six illustrated friends navigating the challenges of school, family, and friendship, included in each episode there is a real person sharing their powerful story.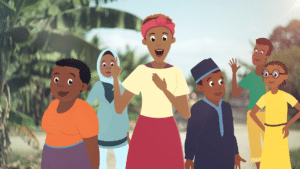 Impact(Ed) created the series as a resource to advance the goals African youth and their communities have on issues like health, staying in school, early marriage, and goal-setting. Challenges that young people across Africa and beyond contend with regularly. 
This Emmy nomination recognizes the innovation, creativity, and quality of the storytelling that brings these important stories to life – from the writers, animators, voice actors, producers, local teens, and the whole team of talented artists across Africa. 
We especially want to congratulate Fundi Films and Maan Creative who brought these stories to life, the team at CAMFED who helped ensure our messaging was spot on, their My Better World curriculum which inspired the series, and the groups of young people who workshopped stories with us from their own lives.
Most importantly, however, is that the show is changing the lives of young people across communities in sub-Saharan Africa: more girls in school, early marriages cancelled, new toilet facilities at schools and more!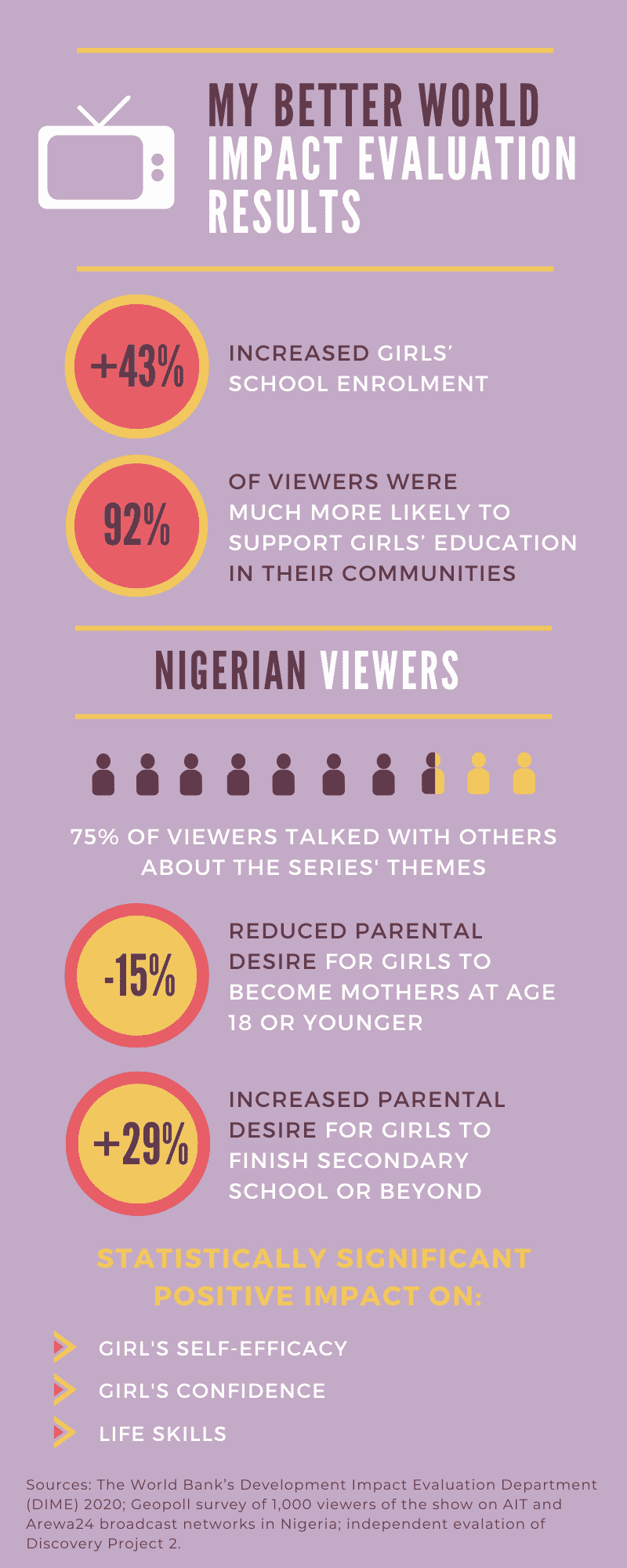 And it's not just statistics that illustrate how well-loved the show is.  Students, TV viewers, and teachers alike are telling us why they are My Better World fans.
"I love how the issues dealt with are real and practical to our setting…My family and I always tune in to watch." – viewer in Kenya 
"I saw really beautiful episodes.  Real Life. Especially I loved that of Jemima. Jemima is hopeful. Challenges are there but you could see that the future is bright. And I think it relates well with our students. They have challenges but when they see these learner guides…it gives them that need to be assertive in life and to have hope for the future." Deborah Agnes, Teacher/ mentor 
"The training taught us how to talk about every video lesson and how we can do our work. We support the girls on how to be an ally (to each other) and fulfil their dreams. If they want to be a doctor, we tell them the ways they have to follow to do so. I ask them about their favorite MBW characters, like Abi, Rosa or Grace. So many of them raise up their hands!" Sarah, Girls' Association Mentor, Kano, Nigeria
The series was initially developed for use in girls' clubs – to spark conversations among marginalized girls in their local communities. And it worked. Watching and discussing the series with peers – facilitated by trained mentors – led to well-documented positive changes in girls' life skills, attitudes and behaviours. The series then rolled out to broadcast TV and radio networks across Africa, as well as YouTube.  
Most recently, we are working with the Kenya Ministry of Education to further its reach and impact across Kenya. It's one of the tools included in Impact(Ed)'s life skills education and mentorship model, delivered to school children aged 10-15. 
Heartfelt thanks to everyone involved in the making of this series. We look forward to ensuring its impact continues to be felt in more and more communities.