For the girls who attend one of Impact(Ed)'s partner primary schools in Ghana's Sagnarigu district, long walks to school are a norm. With few transportation options available to the community, students are used to trekking long distances to buy school supplies and even essentials like drinking water and sanitary products – often during school hours.
Across our school communities, participation in youth clubs has helped increase girls' academic performance and life skills. Impact(Ed) has helped develop over 1,190 girls' clubs and associations at its partner schools. So when its community trainings led to the formation of a new girls' club at her school, Madam Zeye Fankor Adzo – the club's Mentor and patron – decided to help her members solve one of the school's most pressing problems.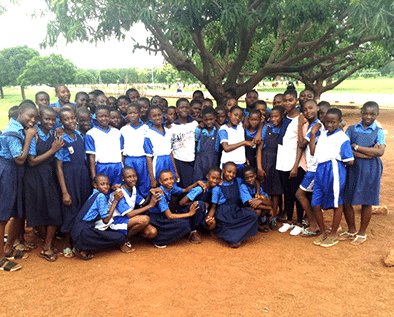 Members of the club pose outside their school
After initially focusing on organizing reading and quiz competitions to help the girls improve their public speaking and reading skills, Madam Adzo decided to introduce them to a toolkit developed by Impact(Ed) for teaching youth about social enterprise and entrepreneurship.
Joined by the school's head teacher, Madam Fusheini Elizabeth, she began using the toolkit to train the girls in the basics of running a social enterprise. Then, she helped them set up a micro business plan for selling affordable stationary products such as pens and pencils, as well as clean drinking water on the school premises, to help students avoid long treks during and after school hours to buy these essentials.
The girls launched their project in January 2018, with a goal to generate income that would support their club's activities as well as help their classmates access school supplies and personal hygiene products at the school premises. The daily proceeds at the end of the day are handed over to the club's mentor for record-keeping and procurement of more items needed by the girls.
A resounding success
The project was an immediate hit at the school. Since its launch, its initial capital has nearly tripled! Most importantly, the club members' teachers report that it has led to an increase in their school attendance and learning outcomes. The girls' self-esteem has also received a major boost: thanks to the project, they now buy many of their school supplies on their own without relying on their parents. They love coming to school and seeing the results of their project helping so many of their peers.
"Before our partnership with Impact(Ed), I had not really thought of the idea of forming a girls' club," said the Madam Fusheini Elizabeth. "Now the club has expanded and members are very busily engaged after school, which prevents the girls from roaming aimlessly in the community."
The girls are not stopping there. Going forward, Madam Elizabeth has promised to allocate a storage room at the school for their club, which will allow them to expand their project and employ an experienced salesperson to help manage sales. There are also plans to use proceeds to support the education of needy girls in the school's neighborhood – paying it forward to the community beyond their school.